RiverView Welcomes Cardiologist, Adds Services
RiverView Health is pleased to welcome Noah Chelliah, MD, to its medical staff as the medical director of RiverView's Cardiology and Rhythm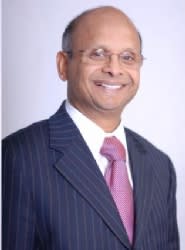 Management Services.

Dr. Chelliah is a cardiologist working to diagnose cardiovascular diseases such as congenital heart defects, coronary artery disease, heart rhythm disorders and heart failure. His Crookston practice will allow patients additional services close to home. Along with cardiology consultation, Dr. Chelliah will perform cardiac procedures including pacemaker implants, cardiac defibrillator implants and Biventricular pacemaker implants. He will work closely with RiverView Internal Medicine Specialists Bosun Fashoro, MD, and Sherine Talaat, MD, PhD.

"Dr. Chelliah is an accomplished cardiologist who brings with him more than 30 years of experience,'' shared Dr. Fashoro. "He undoubtedly will be a resource to our facility.''

After completing his medical degree at Christian Medical College, Vellore, South India, Dr. Chelliah completed an Internal Medicine residency in New York City and a Cardiology fellowship in New Jersey. He is board certified in Internal Medicine, Cardiology and Interventional Cardiology.

To make an appointment with Dr. Chelliah, call RiverView's North Clinic at 218-281-9595.