RiverView Ranks 41 on Best Places to Work in Healthcare List
Hospital news
|
Friday, October 9, 2020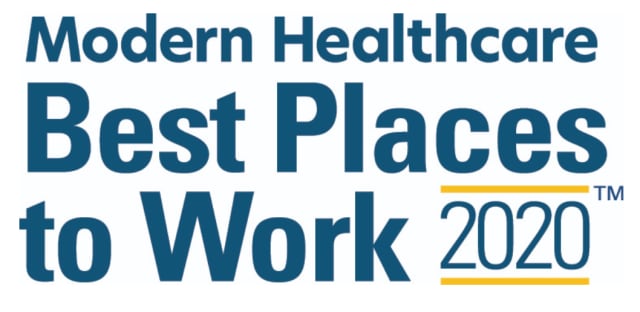 What a week it's been for RiverView Health! On the heels of Wednesday's ribbon-cutting event held for the hospital and clinic replacement project, dubbed RiverView 2020, Modern Healthcare announced Thursday that RiverView ranks 41st on its list of the 150 Best Places to Work in Healthcare program in 2020.
This marks the fourth year RiverView has made the list of Best Places to Work, ranking at 71 in 2017, 35 in 2018, 16 in 2019, and now 41 in the Healthcare Providers and Insurers category.
"Participating in the Best Places Survey has been transformational in RiverView's journey to not just be a Best Places to Work organization in Northwestern Minnesota, but one of the Best Places to Work in Healthcare nationally,'' stated RiverView Presi­dent/CEO Carrie Michalski. "Our governing board and leadership team is deeply committed to fostering a learning organization. We strive to continuously evaluate using input and feedback from our entire team. Then we adjust, test, and improve. That cycle is never-ending.''
The nationwide recognition program, now in its 13th year, honors workplaces throughout the healthcare industry that empower employees to provide patients and customers with the best possible care, products, and services. Modern Healthcare - a leader in healthcare business news, research, and data - partners with the Best Companies Group on the assessment process, which includes an extensive, voluntary, anonymous employee survey to benchmark standings against other health care facilities across the country.
"We have such an amazing team here at RiverView, committed to the collaboration it takes to nurture a great workplace,'' Michalski shared. "When we ask for feedback, our team responds, candidly. We are not a perfect organization. We are a learning organization. We are humble about our imperfections, committed to learning, open to new ideas, and new processes. We are not afraid to try something new as we strive to attain excellence. Keeping a place on Modern Healthcare's Best Places to Work list is a testament to our learning from the team's feedback and using that to further improve. The journey continues every day.''
RiverView is the largest employer in Crookston with 388 employees.
The following one-minute video was created for Modern Healthcare: https://www.youtube.com/watch?v=OQ5487Wib2U&feature=youtu.be