RiverView Offers Mammograms for Earliest Defense Against Breast Cancer
Community news
|
Wednesday, October 26, 2022
There's no doubt COVID derailed a lot of annual checkups and screenings. However, October is Breast Cancer Awareness Month, and time to get back to your yearly mammogram at RiverView Health.
Early detection is the best defense against breast cancer. Successful treatment and survival rates for breast cancer patients are dramatically affected the earlier the disease is caught. If breast cancer is found early, before it has spread to lymph nodes, the five-year survival rate is 98 percent, according to the Centers for Disease Control and Prevention (CDC). Therefore, annual mammograms are a must.
A mammogram is an X-ray picture of the breast used to look for early signs of breast cancer. Regular mammograms are the best tests doctors have to find breast cancer early, sometimes up to three years before cancer can be felt.
Breast cancer is the second most common cancer among women in the United States, second only to skin cancer. In 2019, the latest year for which the CDC has statistics, nearly 265,000 new breast cancers were reported in females, and 42,280 women died from the disease.
Back to Routine Care
Janeen Brule, radiological technologist, has been doing mammograms for 19 years at RiverView. While she said RiverView saw a significant drop in patients coming in for routine exams during the height of the COVID pandemic, most people have gone back to routine screening. However, it is important that every woman over 40 make a mammogram an annual screening.
"Women definitely should be getting their mammograms yearly from 40 to 80 because chances of finding cancer at an earlier and more curable stage are what we are all aiming for," Brule shared. "It's heartbreaking when a woman who has missed a year or two of mammograms then comes in and ends up with a positive biopsy."
RiverView recommends the following guidelines for screening mammograms:
Women at average risk should have a baseline mammogram at age 40 and yearly until age 80
At age 80, it is up to the patient, primary care provider, and based on medical history
Risk Factors
Studies have shown that your risk for breast cancer is due to a combination of factors. The main factors influencing your risk include being a woman and getting older. Most breast cancers are found in women 50 years old or older. While you may not be able to change your gender, age, and family history, there are factors you can control, including:
Not being physically active. Women who are not physically active have a higher risk of breast cancer.
Being overweight or having obesity after menopause. Older women who are overweight or have obesity have a higher risk of getting breast cancer than those at a normal weight.
Taking hormones. Some forms of hormone replacement therapy (including both estrogen and progesterone) taken during menopause can raise the risk for breast cancer when taken for more than five years. Certain oral contraceptives (birth control pills) have also increased breast cancer risk.
Reproductive history. Having the first pregnancy after age 30, not breastfeeding, and never having a full-term pregnancy can raise breast cancer risk.
Drinking alcohol. Studies show that a woman's risk for breast cancer increases with the more alcohol she drinks.
Research suggests that other factors such as smoking, exposure to chemicals that can cause cancer and changes in other hormones due to night shift working may also increase breast cancer risk.
Talk to your primary care provider about ways to reduce risks, such as medications that block or decrease estrogen in your body or surgery.
Financial Assistance is Available
If cost is a factor in whether or not you go in for a mammogram, RiverView participates in the Sage Screening Program. The Sage Program helps keep Minnesotans healthy through screening and early detection of breast and cervical cancer, as well as colorectal cancer screening services for Minnesota's uninsured and underinsured. Screenings are provided at participating locations, like RiverView, free to people who qualify.
The Sage Program maintains a call center staffed by patient navigators who speak several languages. The navigators answer calls Monday through Friday, 8 am to 5 pm, assisting Minnesota callers with program eligibility, identifying and addressing barriers to screening, scheduling appointments, and providing referrals to appropriate resources. The toll-free number is 888-643-2584.
Brule recommends that each patient have a primary care provider to review test results and provide guidance if the results lead to a callback. A referral for a mammogram is not needed, though, so a patient can call to schedule their appointment.
To schedule a mammogram, call RiverView's Diagnostic Imaging Department at 281-9428.
Think pink! The Crookston Pirates Girls Tennis Team proudly wears the pink headbands RiverView gave out for Breast Cancer Awareness Month.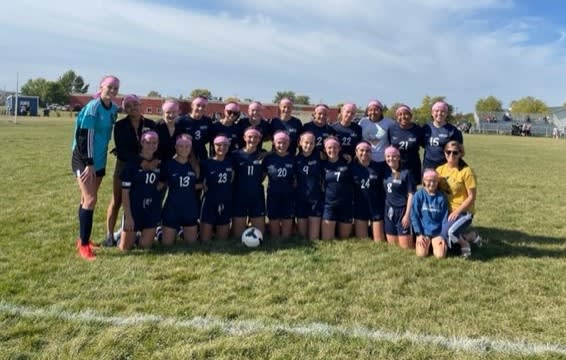 The Crookston Pirates Girls Soccer Team shows off the pink headbands RiverView shared for Breast Cancer Awareness Month.
Go Pirates! The volleyball team also got in on the Breast Cancer Awareness Month recognition through RiverView.