RiverView Memory Care a Safe Place for Those with Alzheimer's
Community news
|
Wednesday, November 24, 2021
Chances are you know someone with Alzheimer's disease or another form of dementia that affects their memory, thinking, and behavior. According to the Alzheimer's Association, more than 6 million Americans are living with Alzheimer's disease.
November is Alzheimer's Awareness Month. It's a time to educate others about the disease, show support for those suffering from it, thank their caregivers, and highlight facilities that offer special services – like RiverView Health's Memory Care.
Alzheimer's disease attacks an individual's memory of people, places, and things. One in nine people age 65 and older (11.3%) has Alzheimer's disease. Almost two-thirds of Americans with Alzheimer's are women. People age 65 and older survive an average of four to eight years after a diagnosis of Alzheimer's. Yet, some live as long as 20 years with the disease.
Know the Symptoms
There are a variety of symptoms related to Alzheimer's disease and dementia. A few signs to look for include:
Memory loss (especially short-term)
Trouble making plans and solving problems
Confusion over times or places
Misplacing objects
Those with Alzheimer's disease also experience mood and personality changes that can evolve into someone being confused, suspicious, or even depressed.
Alzheimer's disease and other related dementias have a devastating impact not just on those with the disease but can also be a burden on caregivers - a job that usually falls on family and friends.
According to the Alzheimer's Association, more than 99,000 people 65 and older live with Alzheimer's disease in Minnesota, and 8.9 percent of people aged 45 and older have subjective cognitive decline. Over 170,000 family caregivers are providing care to those with the disease.
Alzheimer's disease is a growing public health crisis in Minnesota. Without an effective treatment or cure, the impact of Alzheimer's will continue to rise, and the numbers in Minnesota are escalating.
More Care Required
When someone with dementia can no longer stay at home or with family, RiverView Health offers a specialized dementia care setting in Crookston. The facility is connected to RiverView's new hospital and clinic for easy access to appointments.
RiverView Memory Care is a 22-bed facility that offers round-the-clock nursing care and assistance with activities of daily living. An interdisciplinary team comprised of nursing, activities, nutrition services, social services, administration, and licensed physician oversees each resident's care. Speech, occupational and physical therapy are also available onsite to provide rehabilitation services as needed.
"Our care team receives specific training on a person-centered approach to dementia care," shared Kelly Beiswenger, administrator at RiverView Memory Care. "Those who serve our residents do so because it is their calling to serve others with passion, courage, and a true sense of partnership."
Individualized plans of care enable staff to manage triggers of behavioral expressions in persons living with dementia. The team also creates daily moments of success by offering meaningful opportunities for residents to find happiness. The activity program focuses on sustaining feelings of belonging and purpose while preserving a sense of self.
"We strive to help individuals meet their daily physical, social and psychological needs," Beiswenger reported. "Every resident is treated with the utmost respect and dignity, while our staff works to help them function at their highest level possible.
"Our staff takes great pride in getting to know our residents and their families on a level where we become one big family. We offer a homelike environment at RiverView which allows our residents to feel comfortable and safe."
For more information on Alzheimer's disease, go to www.alz.org. If you would like to know more about the services offered at RiverView Memory Care, call 281.9458.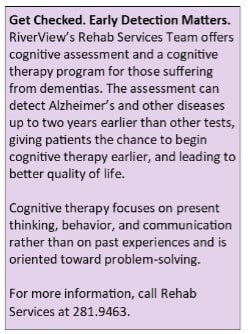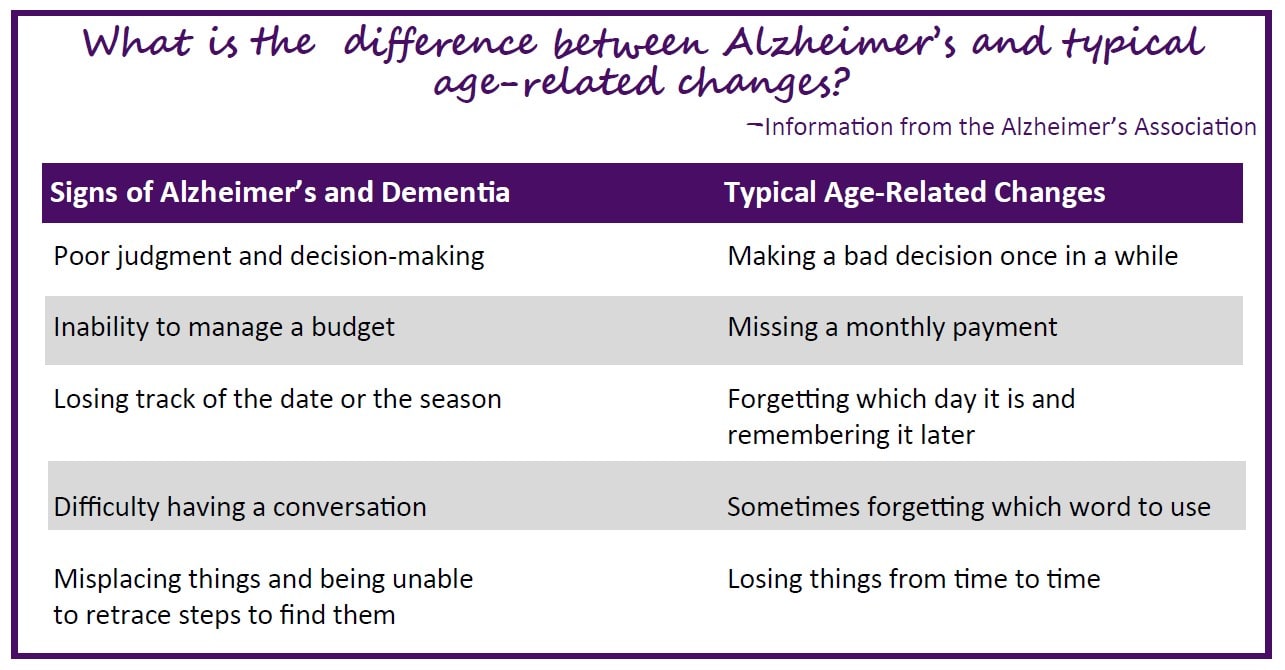 Pictured above: Memory Care residents enjoy a variety of fun, beneficial activities with specially trained staff.