RiverView Health Holds Ribbon-Cutting Celebration
Hospital news
|
Friday, October 9, 2020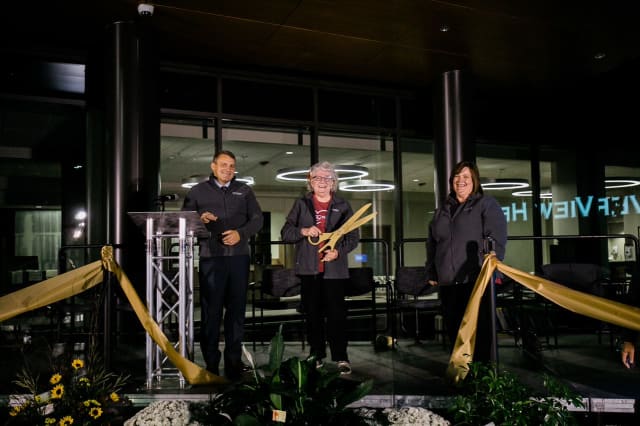 The night sky over Crookston was ablaze with fireworks Wednesday night as the community came out to celebrate the ribbon-cutting ceremony of RiverView 2020, RiverView Health's hospital and clinic replacement project.
While the celebration was not what anyone would have anticipated back when the groundbreaking celebration was held in April of 2019, RiverView made lemonade out of lemons with a COVID-19 protocol-following event.
The parking lot in front of the new river-facing facility was full of well-wishers listening to presentations by RiverView representatives Carrie Michalski, president and CEO; Andy Oman, chair of the Board of Directors; Dr. Colin Fennell, chief medical officer; and Marsha Schoenborn, chair of the Foundation Board of Directors. Dale Stainbrook, mayor of Crookston, spoke of RiverView's importance in the community, while project leaders Jason Toso, project manager for Mortenson Construction, and Paul Widlarz, principal architect of HGA Architects, talked about the successful project process and completion.
Michalski shared the impact the design team of doctors, nurses, therapists, and support professionals had on the 80,000 square foot facility and the immediate impact RiverView 2020 will have in enhancing patient care in the region.
Orthopaedic Surgeon Dr. Colin Fennell echoed those sentiments.
"We are all very proud of what we've developed…This success has 500 parents. We have 500 parents in every different way who have taken their one role within building this facility, and they've taken their job super seriously, and have created something that is unimaginable."
"This hospital, and I've worked in many different hospitals around the country, this is the nicest building I've ever been in…I tell people in Crookston to look forward to what we have, and it's going to continue to get better."
Ribbon cutting honors went to Betty Juve, longtime RiverView greeter. Juve began her career at RiverView on Oct. 10, 1978, which also happens to be her birthday. This week she will celebrate her 42nd anniversary with RiverView and her 91st birthday.
A big-screen tour of the new build led by RiverView staff showed off some of the unique features and highlights of the state-of-the-art facility.
Michalski summed up the historic evening: "Perfect weather, perfect night, perfect team I am privileged to work with."
RiverView 2020 is a $51 million project consisting of an 80,000 square foot, two-story building to replace RiverView's current hospital and clinics. The building's upper level consists of the Inpatient Unit with 18 universal patient rooms, three labor and delivery rooms, and four family suites. Every room has a private bathroom and a large floor plan to allow caregivers adequate space to provide patient care and room to ensure family and friends are comfortable. The ground level is home to all three of RiverView's current Crookston clinics consolidated into one large clinic. The new clinic has 48 exam rooms, four procedure rooms, and four consultation rooms. The project also includes a lobby café, relocated gift shop, and an 80-occupant training and conference center.
The new facility will open on Oct. 25.
The video tour can be found on YouTube at https://www.youtube.com/watch?v=eRriJL_mUdM&feature=youtu.be.
Pictured above: Andy Oman, Betty Juve, and Carrie Michalski at the RiverView 2020 ribbon-cutting celebration.