Maddie Nicholls Earns Certification Benefitting RiverView Patients with Autism
Hospital news
|
Tuesday, September 27, 2022
If you love or work with someone with Autism Spectrum Disorder (ASD), you understand the saying, "If you've met one person with autism, you've met one person with autism." In other words, every individual with autism is unique and has their own special abilities and difficulties.
Therapy for one individual on the autism spectrum may differ significantly from another. Those with ASD need to work with highly skilled individuals who understand what tactics work with patients of different abilities; this is where RiverView Occupational Therapy Assistant Maddie Nicholls comes in. Nicholls assesses each patient to determine what combination of therapy-related activities will produce the most successful outcomes.
Nicholls recently earned the designation of Certified Autism Informed Professional. To receive certification, Nicholls mastered core ASD areas related to diagnosis, behavior, communication, social skills, and how best to adapt the physical environment for successful therapy outcomes.
"As a therapist here at RiverView, we have a wide variety of caseload, including Autism Spectrum Disorder, which I see more and more," Nicholls reported. "Being part of the occupational therapy world, it is my highest priority to help these individuals. I work to improve their ability to self-regulate emotions and participate in social interactions. Through appropriate interventions, occupational therapists can help build on strengths and overcome limitations within the autism community."
A Very Wide Spectrum
The Centers for Disease Control and Prevention (CDC) classify ASD as a developmental disability caused by differences in the brain. Some people with ASD have a known difference, such as a genetic condition. Other causes are not yet known. Scientists believe multiple causes of ASD act together to change the most common ways people develop.
People with ASD may behave, communicate, interact, and learn in ways that are different from most others. Often, nothing about how they look sets them apart from other people. The abilities of people with ASD can vary significantly. For example, some people with ASD may have advanced conversation skills, whereas others may be nonverbal. Some people with ASD need a lot of help in their daily lives; others can work and live with little to no support.
In 2000, the CDC estimated that 1 in 150 children had autism. The years since have seen the prevalence of autism go up significantly. Today, about 1 in 44 children is on the autism spectrum.
Helping Children, Families on the Spectrum
"People with autism are different, not less," Nicholls shared. "Our main goals in occupational therapy are to improve quality of life for our patients through interventions that promote independence."
Nicholls offers the following tips for anyone with a loved one on the autism spectrum:
Focus on the positive. Those with autism often respond well to positive reinforcement.
Use effective motivation. Take the special interests the individual enjoys and broaden them. Expose them to new things that can become bigger interests.
Stay consistent and on schedule. Make sure you display consistent guidance and interaction, so the individual can practice what they learn from therapy.
Put play on the schedule. Find activities that seem like pure fun, not more education or therapy based.
Give it time. It takes a lot of trial and error; each individual has different techniques, treatments, and approaches as you figure out what is best for them.
Get support. Support can come from family, friends, online groups, etc. Create a village of friends and family who understand your loved one's diagnosis.
RiverView Health offers a wide variety of services to benefit patients with autism, including speech, occupational, and physical therapy. Services are available in Crookston, East Grand Forks, Red Lake Falls, and Fertile. Each location also houses a multi-sensory environment (MSE) for its patients.
Special Spaces Increase Positive Outcomes
Multi-sensory spaces stimulate an individual's senses through the environment. The area creates a calming atmosphere that helps to reduce anxiety, agitation, and much more. The equipment used in the MSE provides visual, auditory, tactile, and olfactory stimulation to assist with relaxation factors and help patients reach their goals.
The space accommodates patient needs, and not only those with ASD. If a stimulating and alerting environment is needed, that setting is created with the touch of some buttons. If a calming environment benefits the individual, the MSE is adjusted to meet those needs leading to a more productive therapy session.
Patients of all ages and abilities benefit from the spaces, especially those who struggle with self-regulation, such as being alert and calm during purposeful activities such as therapy. Equipment used in the MSE includes bubble tubes, fiber optics, a projector with many themes, a beanbag chair, and room-darkening blinds.
The therapeutic, fun environments are possible thanks to funding from the Dancing in the Sky Fund by the Jim Ingeman Family through the RiverView Foundation.
For more information on any services related to ASD, call Rehab Services at 281.9463.
Pictured above: Maddie Nicholls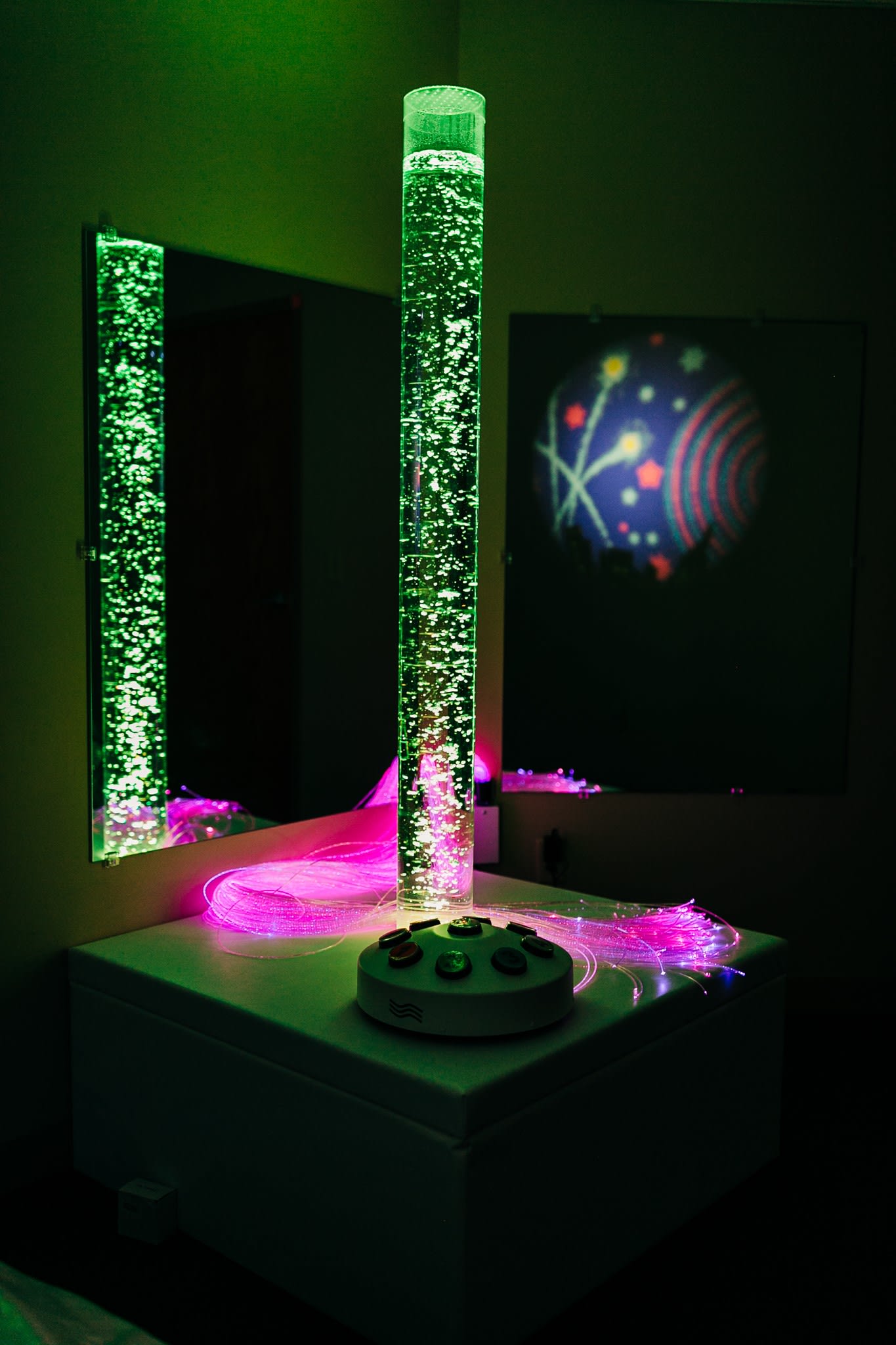 One of the features in a RiverView multi-sensory room.