Frontline Staff at RiverView Health Receive COVID-19 Vaccine
Tuesday, December 22, 2020
Thumbs up. That was the consensus at RiverView Health Monday, Dec. 21, as many of RiverView's frontline healthcare providers received the COVID-19 vaccine.
RiverView received 43 vials of the Pfizer vaccine Monday, according to RiverView Chief Nursing Officer April Grunhovd. Sixty-two frontline workers had received the first dose of the two-dose vaccine by Monday night. The second dose will be administered 21 days after the first dose.
Grunhovd reported that RiverView would continue vaccinating Tier 1a individuals this week until the doses are depleted. Tier 1a includes healthcare personnel working in COVID-19 areas, long-term care facility staff and residents, COVID-19 testers, and those providing COVID-19 vaccinations. RiverView will also vaccinate members of the Crookston Area Ambulance and Polk County EMS, who are also part of Tier 1a.
RiverView expects to receive its next allocation of the vaccine the week of Jan. 4, with weekly shipments scheduled after that.
As of Tuesday afternoon, no adverse reactions had been reported in any of the vaccinated individuals, according to Grunhovd.
"There has been great enthusiasm from the healthcare personnel that have received their vaccinations so far,'' shared Grunhovd. "We have been weathering this pandemic journey together and to now have a vaccine, here, brings much hope. It is a voluntary decision to be vaccinated. The healthcare personnel choosing to be vaccinated have been grateful and are embracing their sense of duty to lead the way.''
Based on evidence from clinical trials, the Pfizer vaccine is 95% effective. The vaccine works by teaching the body's cells how to make a protein that triggers an immune response. This immune response, which includes making antibodies, protects individuals from getting infected if the real virus enters the body.
The vaccine is recommended for people age 16 years and older. It is not recommended for anyone who has had a severe allergic reaction (anaphylaxis) to any ingredient in the vaccine. In clinical trials, side effects (such as fever, chills, tiredness, and headache) were reported as mostly mild to moderate.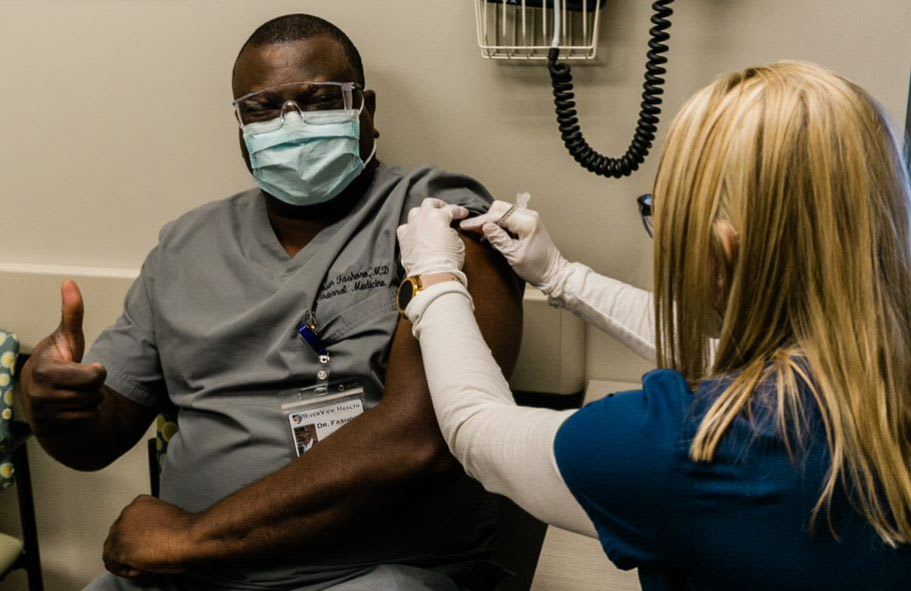 Pictured above: Dr. Bosun Fashoro was one of the first providers to get the COVID-19 vaccination at RiverView Health. He is shown above with Shannon Ringstad, LPN.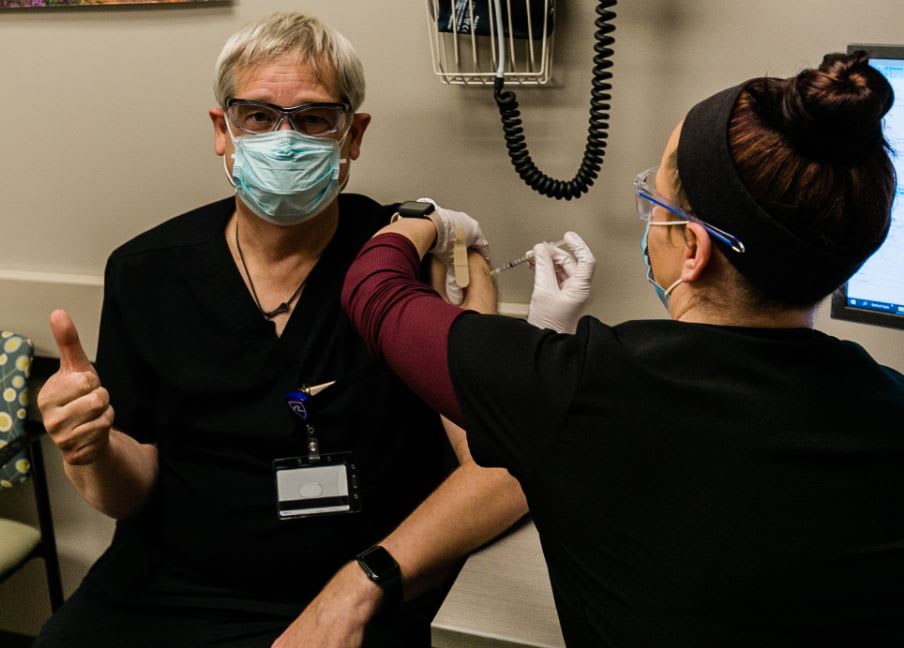 Dr. Erik Kanten receives the COVID-19 vaccine from Kelsey Billing, RN.