Building Project brings Traffic Route, Parking Changes
Hospital news
|
Monday, May 6, 2019
RiverView's building project, RiverView 2020, has begun!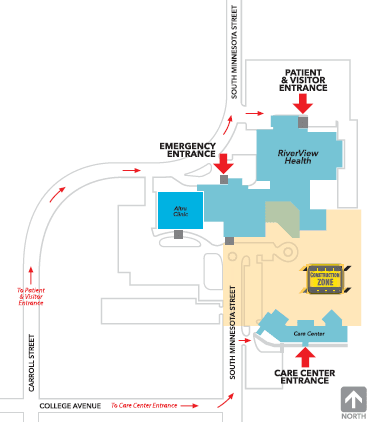 All patient services will remain open during the project.
With construction comes a few changes in public parking and building entrance. Minnesota Street on the south side of the campus, off of Highway 75 South, is now closed. Patients entering the campus from that direction need to take Carroll Street. All patients and visitors to the clinics and hospital are
asked to park in the parking lot on the north side of the campus and use the north entrance near the North Clinic. Once inside, an information desk is set up to assist in getting you where you need to go. Patient & Visitor Guides are also available at the entrance. Click here to preview the guide. The Emergency Department entrance is Door 3 located on the north side of the building near the ambulance entrance. Please watch for signs.
For questions regarding directions and parking, please call 218-281-9200.