Broiled tilapia with mustard and yogurt sauce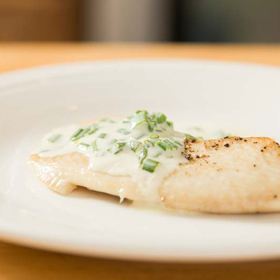 View step-by-step instructions

Makes 4 servings.
Ingredients
Canola oil cooking spray
1 tablespoon extra-virgin olive oil
4 tilapia fillets (6 ounces each)
Salt and freshly ground pepper to taste
1/4 cup 2 percent Greek-style yogurt
1 teaspoon Dijon mustard
1/4 cup freshly squeezed lemon juice
2 tablespoons fresh chives, chopped (or substitute green onions)
Directions
Turn on broiler.
Spray baking dish with cooking spray.
Drizzle olive oil on both sides of fillets. Gently brush to coat well.
Season with salt and pepper.
Arrange fillets in baking dish. Do not overlap.
Broil until fish flakes easily, about 8 minutes. Set aside.
In a small bowl, combine yogurt, mustard, lemon juice and chives. Whisk to mix well.
Transfer fillets to serving dish.
Drizzle with sauce, and serve.
Nutrition information
Serving size: 1/4 of recipe. Amount per serving: 200 calories, 6g total fat (2g saturated fat), 2g carbohydrates, 34g protein, 0g dietary fiber, 169mg sodium.